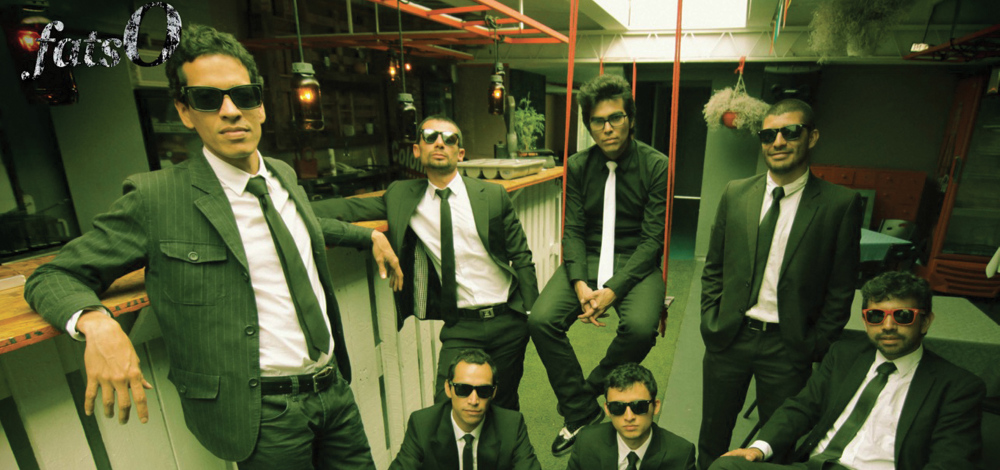 Daniel Restrepo : Voice, Double Bass
Pablo Beltran : Sax
Cesar Caicedo : Clarinet
Cesar Morales : Drum
Daniel Linero : Sax
Elkin Hernandez : Clarinet
Santiago Jiménez : Guitar
Bogota's fatsO are the creation of Daniel Restrepo, who writes, arranges, plays contrabass, and sings with a raspy voice that evokes the blues, jazz and American folk.
FatsO comes out from an outstanding network of eclectic musicians from Bogota, involved in rock, electronic, jazz, traditional and avant-garde projects. Fatso's music is a meld of blues, jazz and soul influenced by rock sounds. Restrepo himself used to be member of a rock band called "Seis Peatones".
Most of Restrepo's compositions are in English language due to he spent his childhood and part of his teenage in the US. He says "What matters is to generate high quality content and to have a fierce ability to transmit and connect with the audience".
Restrepo's path is the result of a honest and authentic research. He ordered a contrabass in La Habana, Cuba. Once, this one arrived to Bogota, mostly destroyed; he renovated it. Then, shut himself up in a room and started to compose and arrange his self titled debut album. He says "we were the fatso and me". 'Fatso' is the way he calls his contrabass. This process tooks six months until he went into the studio to record it.
It was in 2013 that he officially debuted as a sextet at Jazz in The Park Festival in Bogota. The success was so evident that FatsO was invited to be part of all "in The Park Festivals" in Bogota, including Rock in The Park.
Restrepo's main musical influences growing up were Leonard Cohen, Tom Waits and Joe Cocker but also Radiohead, Sting and The Police. He says: "with the song 'I'll be Fine' I pay a homage to those big authors without any pretension".
In April 2015, fatsO did their European debut at Jazz Ahead in Germany. It was very well received by the audience and their premiere album will be released on March 2016 by the well known label Jazzhaus Records.
This is a great act to be seen live and to be listened to!!!