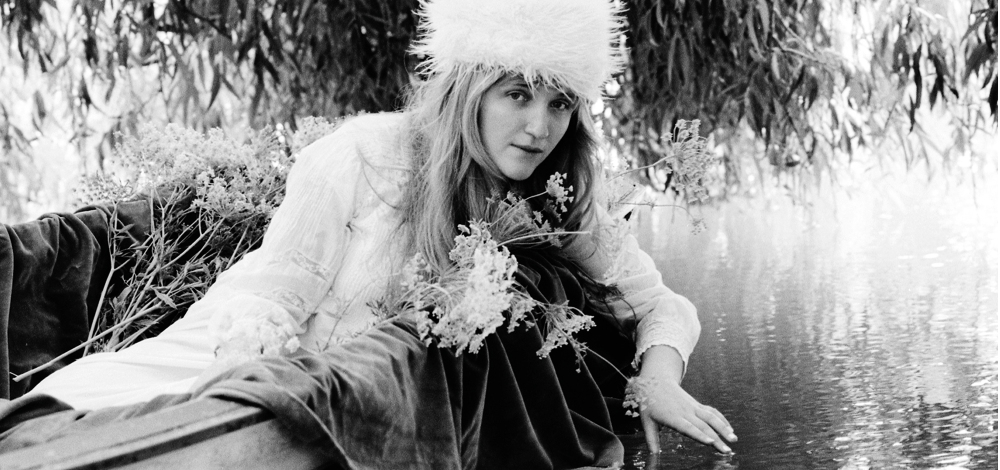 Do not be fooled by her diminuative stature and soft voice: the elf-like girl sipping tea across from me is a source of enormous inspiration and power. She is Kyrie Kristmanson – a young Canadian musician, who is busy developing a unique language in which North American folk music collides with medieval melodies, pop with jazz, and everyday songs with great musical revolutions. Origin of Stars, her first album, which appeared on NØ FØRMAT!/Universal France in 2010, combines distinct sources, musical practices and her own individual aesthetic. Imagine an acoustic encounter between Joni Mitchell and Björk.
Perhaps her name prefigures something of her path… Her first name, Kyrie, represents a song by which the faithful praise the Lord and implore his mercy.Her last name, Kristmanson, is Icelandic and means "son of the Christian". However, her first album (self-released at the age of 17) is called Pagan Love. Such tension is throughout her work.
Her father, also a musician, has a recording studio in Ottawa, where the albums of PJ Harvey, Sinead O'Conner and Daniel Lanois were frequently heard. Though born in Ottawa, Kyrie moved around a lot: Montreal, London, New-Brunswick, and Saskatchewan where, in the middle of Canada's immensity, she grew up in awe of nature. She testifies, "winter is extremely cold and summer is extremely hot and dry. The beauty of it terrified me. Sometimes you'd find yourself as the only vertical thing in a completely horizontal landscape. There's a feeling of being naked and vulnerable. You can scream and sing as loud as you want because no one can hear. I suppose that's really how I learned to sing."
She started to play guitar at nine, trumpet at twelve and wrote her first songs as a young teenager. However, she protests when I call her precocious: " A songwriter may write a song down, but it's not entirely she who writes it… Sometimes a song can take years to emerge and needs an enormous amount of collective feeling and experience before it can be condensed into three minutes of music."
So where does the rest come from? Kyrie has a nice smile. We're sitting at a café in Paris around Bastille and the sun is just going down. "In Europe you don't believe in ghosts as much as we do in Canada! Our history is not merely concentrated into old churches and castles, as it is here. It's a raw energy in the land and in nature." Maybe that's why her songs are so often about the wind, the sky, the night… a kind of shamanistic folk…
While on tour for Origin of Stars, Kyrie became fascinated by the female troubadours or the trobaïritz, a little known group of singer-songwriters who lived in the South of France during the 12th and 13th centuries. She went on a pilgrimage during which she visited the ruins of their castles. Soon after, she began courses in medieval music at la Sorbonne, which culminated in a master's thesis focused on the forgotten melodies of the trobaïritz. The research became the inspiration for her new album, Modern Ruin, which was released in Europe by Naïve in February 2015 and will be released in North America in October 2015.
A subtle link emerges between Origin of Stars and Modern Ruin. It seems she has moved from the stories of the New World to those of the old. But what remains of the trobaïritz? At the most, thirty or so lyrics and only one melody are extant. But Kyrie's work, Modern Ruin, daringly restores their unprecedented and sophisticated exploration of profane love and intense religious fervor.
The result is stunning edifice of diamond-laced ramparts, isolated from the world and yet immediately accessible. It's rare for an album to defy convention so thoroughly and succesfully. She tells me, "I wanted to create a fantastical extrapolation of these ruins. I wanted to perpetuate this tradition as a contemporary trobaïritz, to sing about profane love from a medieval and modern female perspective. What we know of the trobaïritz and their repertoire is fragmentary; what I do is bring the fragments to life within my own subjective experience.
Recorded at the 12th century Noirlac abbey, Modern Ruin is a dreamy and kaleidoscopic album for voice and string quartet. It is exemplifies the liberty of a few women in the medieval age combined with the audacity of contemporary musicians.
In collaboration with Madamelune