Antoine Boyer & Samuelito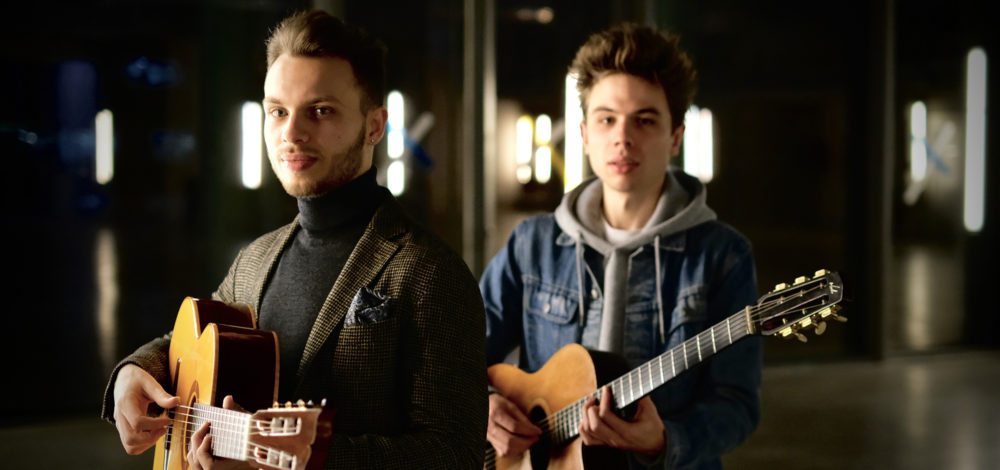 Antoine Boyer & Samuelito met at the Paris Conservatory in the classical guitar lesson of Gérard Abiton. They quickly started playing together and developed a new duo repertoire combining different influences and techniques (jazz, flamenco, classical, pop…). They played their first concert together at the Issoudun Guitar Festival in 2014.
In 2016, their performances at the Samois Django Reinhardt Festival and the Djangofest Northwest (Seattle) earned them standing ovations. They also won the 4th European Guitar Award in Dresden, after which they will appear in several concerts and record an album (Coincidence) with the label Doctor Heart Music.
Antoine Boyer & Samuelito's personalities naturally blend together to explore a whole range of esthetics. Each of them discovering the other's music, they interpret Django Reinhardt and Paco de Lucía… but also other musicians like David Bowie or Roland Dyens.
In addition to their arrangements, a new musical universe is born from their own compositions, specifically composed for the duet. Their respective steel/nylon techniques merge and form one unique sound, and their compositions (Double sens, Si fuera realidad…) have already captured the imagination of enthusiastic audiences in many countries.
Antoine Boyer drank from the most authentic sources of gypsy jazz, being a disciple of such masters as Mandino Reinhardt and Francis-Alfred Moerman, with whom he recorded his first CD-DVD in 2009, acclaimed by French and American critics (Jazzman, Vintage Guitars). Antoine also performed Francis-Alfred Moerman's works in tribute concerts at the Angers Gypsy Swing festival in 2010, as well as the Django Reinhardt festival (Samois) in 2011.
Antoine Boyer's 2nd CD, Leské ("for him", in the Sinti language) received several awards, among which was Trad'Mag's 'Bravo'.  In 2011, following the nuclear accident in Fukushima, Japan, Antoine Boyer organized a concert in Brussels to raise money for Act for Japan. Following the release of his 3rd CD, Sita, which earned a 'Revelation' award from Jazzman magazine, Antoine Boyer was chosen as the 'Revelation 2012' by Guitarist Acoustic magazine. He is the first gypsy jazz guitarist to receive this much sought-after distinction.
Antoine Boyer has been a headliner at most of the major Gypsy Jazz festivals in Europe and the United States and has shared the stage with such renowned musicians as Philip Catherine, Angelo Debarre, Stochelo Rosenberg, Christian Escoudé, Raphael Faÿs, Tim Kliphuis, Jon Larsen, Adrien Moignard, Robin Nolan, and Paulus Schäfer.
He is the winner of the 2015 Montigny Classical Guitar Contest. Antoine has been nominated "Révélation Guitare Classique 2016" by the French magazine Guitare Classique.
Samuel Rouesnel « Samuelito » (1993) started classical guitar at seven at the Conservatoire de Caen (Normandy). He was soon fascinated by world music and particularly flamenco that he discovered through the singing and guitar. Samuelito followed a dual classical and flamenco guitar path, which led him to meet many great performers (Paco de Lucía, Tomatito, Vicente Amigo, Ramón Sanchez, Roland Dyens, Gérard Abiton, Arnaud Dumond, Ibrahim Maalouf and many others) and made him a very eclectic musician. His first concert took place on the day of his 16th birthday at the Caen Theater,  broadcasted by France Télévisions. It was the beginning of an international career (France, Spain, Germany, Croatia, United States…). Deeply attached to the flamenco tradition, both as a performer and a composer, this young guitarist already plays very personal music. His artistic talents have been sought after for other types of projects such as film music, album collaborations, master classes, magazine tutorials.
In January 2019, Antoine and Samuelito joined the International Guitar Night troupe for a two-month tour across the United States and Canada, which brings together four of the most talented guitarists each year. After many concerts and strong expectations from the public and insiders, Antoine Boyer and Samuelito has released a new album on February 28, 2020.
Coïncidence

2016