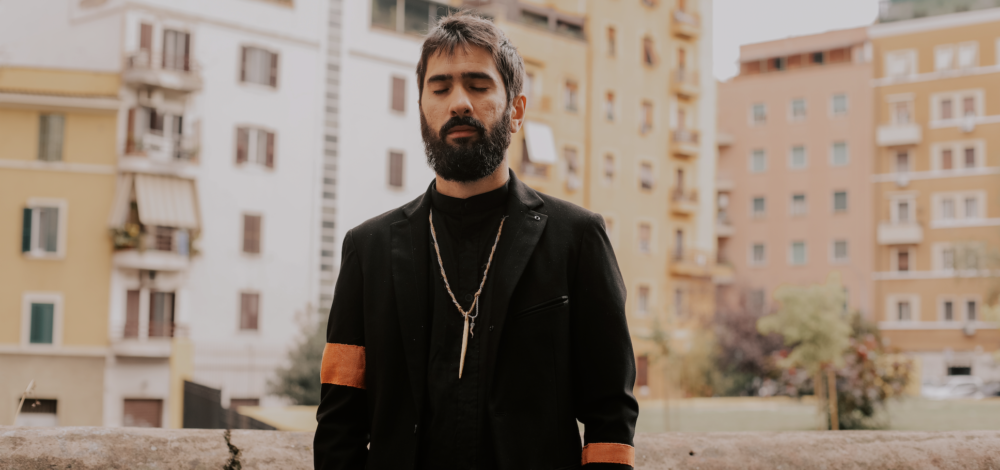 Evocazioni e Invocazioni – Ritual songs from Astromonte
Solo concert: DAVIDE AMBROGIO, voice, lyre, guitar, tambourine, zumpettana, zampogna (bagpipes) live electronics
(Also available as a trio)
Davide Ambrogio grew up in a small town in Aspromont, a mountainous territory in the extreme south-west of Italy, Calabria, where ancient religious rituals and devotional chants are still alive. Following academic and musical studies in Rome, during which he collaborated with the Etnomusa popular music orchestra of La Sapienza and various other artists, he furthered his knowledge with renowned musicologists on vocal technique, traditional oral singing, Sardinian singing, and the aesthetics and polyphony of Sardinian and Salentino singing. A member of several groups, including Linguamadre, with whom he won the national Loano Giovani prize, he recently distinguished himself as a soloist, winning the Musica contro le Mafie and Ethnos Gener/Azioni 2020 awards.
Attached to his Calabrian roots, where he grew up, Davide drew inspiration from this heritage of oral tradition to create his own original musical language and release his debut album in November 2021, already included in the Transglobal Music Chart and World Music Chart Europe, and awarded Top of The World Album by Songlines Magazine upon its release. Evocazioni e Invocazioni ("Evocations and Invocations") was born of a reflection on sound, an investigation into the depth of song, and the aesthetic and ecstatic power of music.
Each piece has its own nature and its own role, just as in the music of the oral tradition, each song and each sound manifests itself as part of a ritual; from the lullaby to the protest song, from the lament to the conjuration. In concert, the Calabrian artist builds an immersive show around the voice, using the lyre, pencil guitar, tambourine, zumpettana, zampogna (bagpipes) and live electronics.
Through timbral, melodic and rhythmic research, Davide Ambrogio tells an intimate truth and suggests different evocations of the present time.
Celebrating the birth of sound (A Sant'Andrea); evoking a spell against evil (A Santa Rusulia) or invoking the wind to carry it away (A San Rocco); invoking sleep to bring about the free and sacred realm of dreams (Veniti Sonnu); mourning the loss of a father and crying out in pain and anger against the criminal system of the 'ndrangheta (A San Michele); questioning inaccessible truths (Misteru); protesting against social inequality (La panza ciangi e lu cani ridi) or calling to speak out, overcoming isolation and exclusion (Canto dal carcere).
Aspromonte is where I was born and grew up for over twenty years. At its feet lies a Calabria still rich in ancient knowledge and traditions that the mountains have preserved. In this place, time and space have a unique value, and the word community means being together and sharing a language. Here, between sound and people, there's a direct relationship between the hum of words, the cries of animals, the bagpipes, the dance, the sound of cars in the distance, the trickle of water from the fiumara. Everything seems to be part of the same dance and the same song.Davide Ambrogio