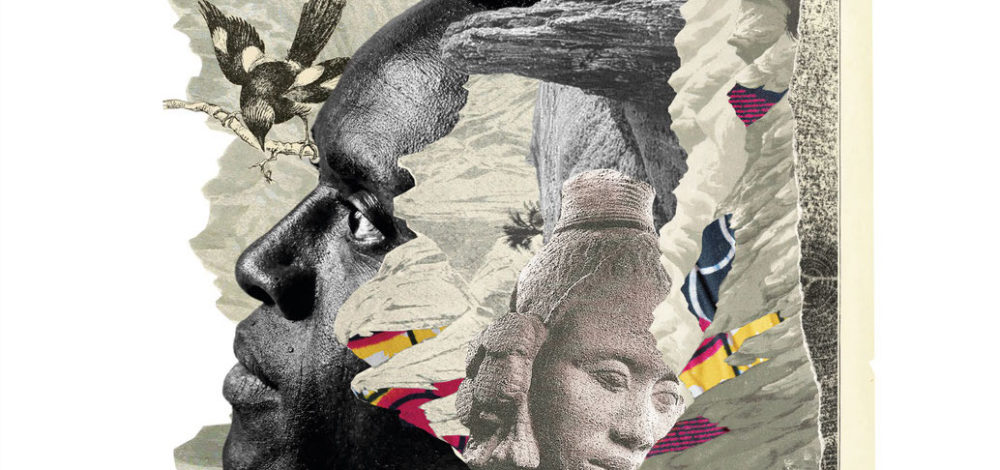 Before leaving to the city, Érik Aliana summoned the spirits of shamans, the memories of his chilhood in the countryside, and the perceptiveness and humour of elders…
Érik Aliana, singer, multi-instrumentist, respects, illustrates, enriches and shakes up the musical traditions of his native Cameroon. The dazzling range of his unique voice colours the streets of the large city where he now lives, with original rural rhythms emphasizing this urban bustle. It is from this encounter and confrontation between village and megalopolis that he draws the beauty, authenticity and spirital dimension of his art. His sharp erudition and soft energy have earned Érik Aliana to become a key African figure in Europe.
Érik Aliana revisits, with his own songwriting, traditional music of the peoples of forest and savanna in Central Africa, including bikutsi (or kindo) of Beti, popularized by the legendary band Les Têtes Brulées in the mid 80s. Inspired by the celebrations and rites of the village, the Pygmies sounds and the moods of the rainforest, the music of Érik Aliana perpetuates a fragile heritage at the same time it renews the African musical creation.
Érik Aliana grew up between Yaoundé and Badissa, the village, where he originates in the province of Center-Cameroon. Two cultural divides and two ways of life that have marked his understanding of music… His talent is expressed in a mix of genres and times when mixing traditional polyrhythms with a jazzy bass, funk touches or cha cha cha … His texts sung in Osananga, French and English, portray a beautiful and alive Africa, also deal with topics of current society inspired by the wisdom of the ancients.
After a successful start in Cameroon, Érik Aliana and his group Korongo Jam toured the African continent (MASA, FESPAM). In 2003, he appeared « the revelation » of Musiques Métisses Festival in France, for his first major European tour. Followed the USA in 2005 (Festival International de Louisiane, Californie, Nevada, etc…) with Bernard Schmidt Productions Inc. Between 2006 and 2011, this is Japan and South Korea, where he performs annually (Festival Sukiyaki Meets The World, Gwangju International Festival, National Museum of Seoul…). In parallel, he participated in several creations whose the musical tale L'enfant pirogue et l'homme crocodile with Manu Dibango in 2008, and Sukiafrika in 2011/2012 : an Asia-Africa unique creative project named as the title of one ofhis songs, alongside the Zimbabwean singer Chiwoniso Maraire.
His first album "Just Africa" (2006) was supported by UNESCO and AFAA (Institut Français). 2011 was the year of his first collaboration with the french record label Buda Musique, releasing the album "Songs from Badissa" . «A song that borrows all the nuances and furrows infinite vibrations, polyphony of voices intertwined in lace, rhythms rubbed briskly in their complexity, traditional instruments of forested sonorities, flutes, sounds, hissings, whistling. That we salute in this solar and subtle record? Its fine architecture, and the undeniable talent of Erik Aliana's arranger. "Songs from Badissa" is listening without moderation» Anne-Laure Lemancel RFI Musique. (Released in Selection FIP, French National Radio).
In 2013, he's back in studio to record "Just My Land" in Live conditions. Out at the end of 2013, the album is also Selection FIP. Érik Aliana presented his new repertory at Au Fil des Voix Paris Festival in February 2014, very well received by critics. «It is a highly accomplished and musically sophisticated recording. The predominantly acoustic instrumentation has been sensitively produced to retainits respective natural timbres. Aliana has a strikingly beautiful voice. (…) This album takes that rural rainforest musical beauty and transports it into atechnical and urban musical setting. It's a very enjoyable, impressive and appealing fusion» Martin Sinnock, Songlines.
New album "Just my soul" (Buda Records) with the bassist Francis "Picket" Dschoutezo, his long-standing friend and colleague