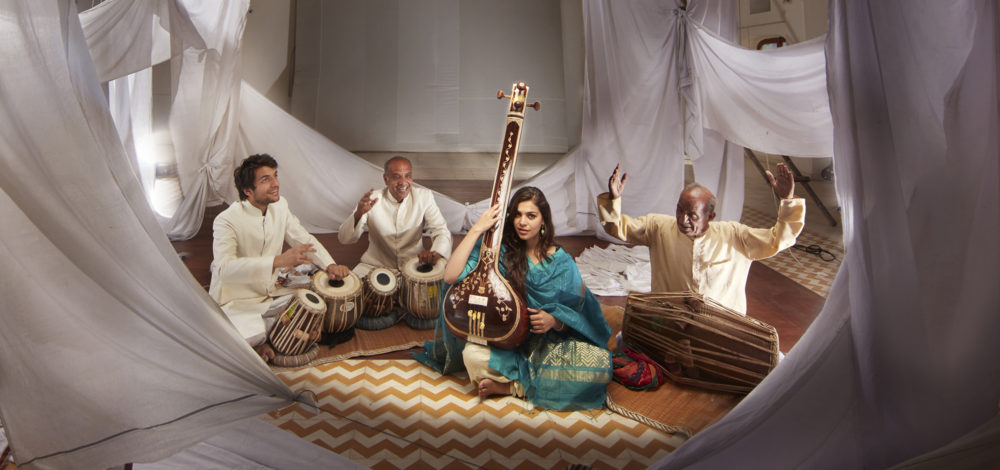 Shows available on 2023/2024
– Duo Ilyas and Parveen Sabrina Khan & Ilyas Raphaël Khan
– Kawa Generations quartet
Hameed Khan Kawa is an internationally renowned musician.
Leader of famous groups as Musafir, Jaipur Kawa Brass Band or Kawa Circus, he's a percussionist and artistic director. He plays tabla, the most popular percussion instrument in India and the most sophisticated in the world.
He has collaborated with many artists and dancers and has performed throughtout the world.
In Jaipur he created the Kawa Cultural Center, a workshop and a place where artists and cultures of the world encounter.
A veritable "humanity walker" tirelessly cultivating spirituality, sharing and transmission. In his steps, his two children initiated from an early age to the ancestral arts of Rajasthan. These two generations of musicians, true ambassadors, propagate the Hindustani classical music and rare "Maand" (endangered folk song).
His children, Parveen Sabrina Khan and Ilyas Raphaël Khan are famous musicians.
These two young Franco-Indian artists grew up in India, where they received the integral teaching of Hindustani classical music according to the ancestral principles of oral transmission: the taleem..
In her deep voice, Parveen expresses with virtuosity and freshness the poetry of this sophisticated music, where the lyrical text, often short, gives a large place to improvisation on both melodic and rhythmic aspects. Ilyas supports and enriches this rythm with his tabla and also his human beatbox.
Beyond their regular performances of Indian classical music Parveen Sabrina Khan and Ilyas Raphael Khan, innovate like their father by their strong creativity of their dual culture. Parveen was awarded by the prize "des musiques d'ici" in the festival "des villes et des monde" of Seine-Saint-Denis with Nirmâan. Parveen and Ilyas transport us with pleasure and spontaneity in a universe of varied and innovative sounds, on complex rhythms, associating with technic, the millenarian and current music of India and Western Europe.
Parveen and Ilyas will also on tour for a classic duet or Tabla-Beatbox and vocals.
In collaboration with Julie Greffet.
Press Parveen.
"Special mention must be made of Parveen, whose purity of voice captivated everyone"
-The Rolling Stone, India
Tv / Radio:
2010 France 5 TV Inde: Documentaire Echappees-belles, 3 générations
2012 France Culture: Documentaire, l'Inde à portée de main –
2016 France Culture: Centre Imaginez pompidou avec Lilian Thuram et son épée par Marie Richeux
Radio Mundofonías: Tablaboxing, Link d'Espagne
Festival:
Alchemy Festival, Old Plough Festival, Paris Philharmonic, Jaipur Literature Festival, South Shore Centre, Jodhpur RIFF Festival, Sankalp Festival, Bue Frog, Solidays Festival Institute of the Arab World Paris, France Culture et divers autres endroits en Inde, France, Royaume-Uni, Italie, Danemark et Liban.