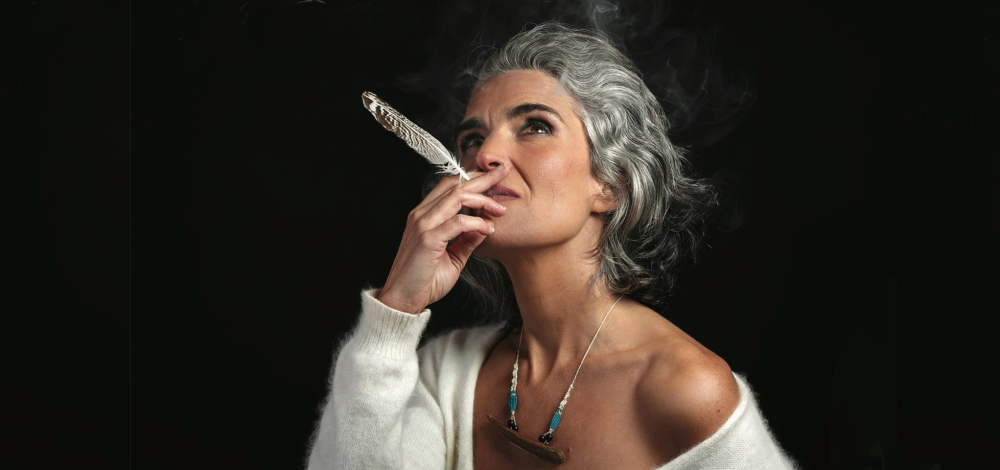 With only 2 albums released since 1998, the reclusive Portuguese singer, composer, guitarist and poet has achieved a rare feat: gathering a stream of devoted followers worldwide, a kind of international secret society whose ranks grow with each of her too rare appearances.
Lula Pena, born and raised in Lisbon, is a cosmopolitan Portuguese: a woman of the wide world! Singer-poet, mysterious woman that hides behind the guitar to best surprise us. A unique, deep voice, inspired by multiple references, playing with borders and with the nest poets. Her first album, Phados, released in 1998, won her immediate acclaim. The deep, commanding yet sensitive voice; the natural blend of fado roots with colours of Portuguese folk music, French chanson, Cape Verdean morna, Brazilian bossa nova; the stripped-down delivery of voice and guitar; all heralded the arrival of a major new talent. And then she disappeared again, only reappearing some 12 years later with the release of her second album, Troubadour, a collection of stories of passion and pain, mirroring her personal journey as existentialist musician and serendipitous poet. In the past few years she has remained reassuringly present, performing in Cape Verde, Brazil, Chile and around Europe, occasionally appearing in duo with Guinea-Bissau multi-instrumentalist, Mu Mbana, or the New Zealand saxophonist, Hayden Chisholm, but usually, on her own and in her own time.
​Lula Pena follows her own rules, not only in her career but in her very music. Her voice is haunting and moving, her guitar style unique, her approach deeply emotional yet also conceptual. She has a quasi-shamanic way of becoming one with her instrument when performing these long, rambling pieces, during which wood, string, words, human body, breath and voice all merge into a single, supernatural fabulous beast.
Lula Pena's music is a living organism. It sails on a strange ocean, bordered by continents called folk blues, flamenco, French chanson, phado (that's how she likes to spell it), bossa nova and others, grazing them all and leaving none intact.
"This is a free-floating open repertoire, a living body which behaves differently with each performance. For me, each performance is like a single piece, within which the various songs and fragments can connect in many different ways, according to the mood, the inspiration, the interaction between the audience and a temporary entity created by the conjunction of the voice and the guitar. The sequence on this album is just one linear possibility, and I encourage the listener to try different orders, just like I do in concert.
Archivo Pittoresco refers to several things, most importantly 'the process' of creating – it is based on the movement of the 19th century painters who decided to leave their ateliers and explore the woods and other organic landscapes, ruins, asymmetric views – I wanted to explore the same path in music, as I wander among different cultures and periods.
I like to play with destiny and destination. I'm more interested in finding out what things have in common, rather than what distinguishes them. I'm aiming at reaching the core which constitutes all kinds of different music – the brain stem which belongs to all music. There is a hidden truth that I want to find. The simplicity of voice and strings and a resonant body will help me find out, at least for myself. I hope that this subtle experience will stimulate the perception of others, of the audience."
Lula Pena