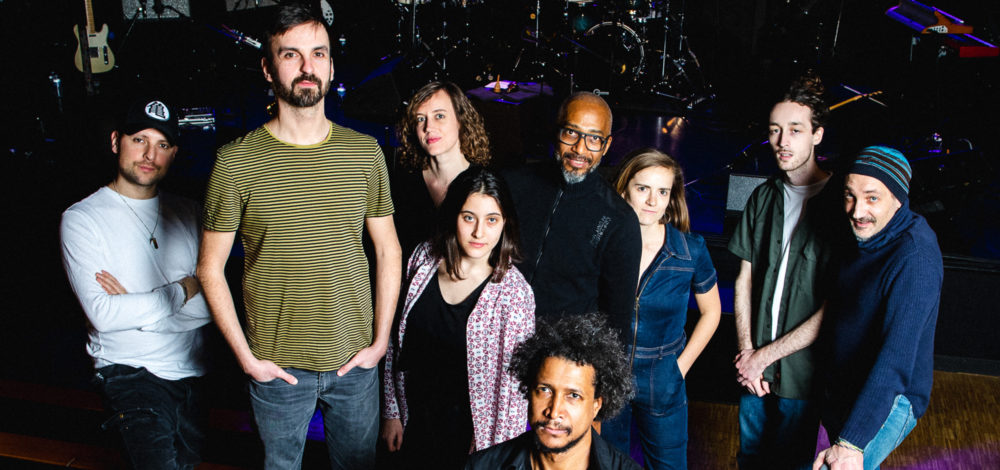 Available for 2023/2024 tour
"Ka-frobeat" – 2022
"Magic Malik Jazz Association" – Album released on 05/24/2019
Magic Malik, one of the greatest French jazz flautist, navigates between jazz, pop, electro or contemporary music. His originality, besides an unusual technique, is his exuberant playing and the use of numerous cries and chants in his flute, called growl. As such, he can be considered an indirect heir to Roland Kirk.
Magic Malik (Malik Mezzadri) was born in Abidjan in Ivory Coast and grew up in Guadeloupe where he learned the flute. At 17, he joined the metropolis, joined the Marseille Conservatory and left it with a 1st prize in flute. He then joined the reggae group Human Spirit with whom he discovered improvisation on stage and played for 10 years. At the same time, he multiplied collaborations like Laurent Garnier and St Germain then he met the jazz saxophonist Julien Lourau and in 1998 joined his group, the Groove Gang. In 2000, he founded the Magic Malik Orchestra. On the occasion of his second album, he began a collaboration with American saxophonist Steve Coleman.
Since then Magic Malik has collaborated with many artists such as -M-, Camille, Bumcello, Air, Pierrick Pédron, Aka Moon, Claire Diterzi, the Trinidadian poet and slammer Anthony Joseph and the Malian singer Oumou Sangaré.
In 2017, he founded the Fanfare XP, a gathering of fifteen musicians around a musical composition charter allowing to explore the composition and improvisation developed by Malik during his career: taléas-colors (shifts between rhythmic and melodic phrases), tonal signatures (harmonic world developed by Malik), Messiaen modes …
More recently in 2019, he dabbled in the modern jazz repertoire for the first time. At the head of a Jazz Association which includes in its ranks the brilliant trumpeter Olivier Laisney (Slugged, Oxyd, Gil Evans Paris Workshop …) and the wisp pianist Maxime Sanchez (recent finalist of the Thelonious Monk Competition), Magic Malik plays this music that nourished and revisits her in its own way, without nostalgia and without repetition, with its humor, its rigorous fantasy, and the memory of Eric Dolphy and Booker Little in the back of his mind.
Fall 2022 residency and recording of a new album "Kafrobeat" still very ambitious.
Supported by nine talented musicians, from the most diverse origins and influences, powerfully linked by an "Africa-Oasis", the XP Afrobeat Platform wants to bring together dreams in a solid land made of music, rhythm and song. They celebrate, under the libertarian wand of Magic Malik, the diversity of Africas, real or poetic. A journey centered on Afrobeat in the broad sense, from Fela's heritage to traditional Cameroonian rhythms. The bet succeeded that different cultures can mix without ever imposing anything.
Presse :
TTT L'un des plus grands flûtistes du jazz français
Télérama Sortir
Un disque remarquable à l'image de son créateur : attachant et hors catégories
Jazz Magazine
Le talentueux flûtiste Magic Malik, créateur d'un nouveau genre : "le ka-frobeat"
France Inter
Magic Malik : "Il a fallu ce disque pour que j'assume enfin de chanter en créole" ITW
France Culture
Deli Express live & interview
TSF
Ce qu'éprouve ce nouveau projet, redéfinissant la Great Black Music à sa manière si singulière, nomade en l'âme et ancrée dans la diversalité d'un monde créolisé ITW
Pan African Music, Jacques Denis
Magic Malik semble concilier origines et originalité. Ka-Frobeat est la synthèse de cette maturation utile qui lui apporte aujourd'hui quiétude et inspiration.
RFI Musique, Je Jazz de Joe
Hors des sentiers battus, le flûtiste et compositeur Magic Malik accroche sans faillir son inspiration à la cime de l'imaginaire. Ka-Frobeat, un album dans lequel, pour la première fois, il s'assume en tant que chanteur
L'Humanité
Avec le titre "Pa fè mwen jiré manman zòt", le flûtiste et compositeur annonce son nouveau projet en forme de voyage musical entre terres d'Afrique et de Guadeloupe
FIP
La flûte transversale de Magic Malik ITW
En Sol Majeur, RFI
Playlist :
Club Jazzafip
Le Monde Connexions jazz : la sélection musicale
France Musique Banzzaï
Jazz association

2019

Joyeuse année 2015

2015