Minino Garay – Tunga Tunga's Band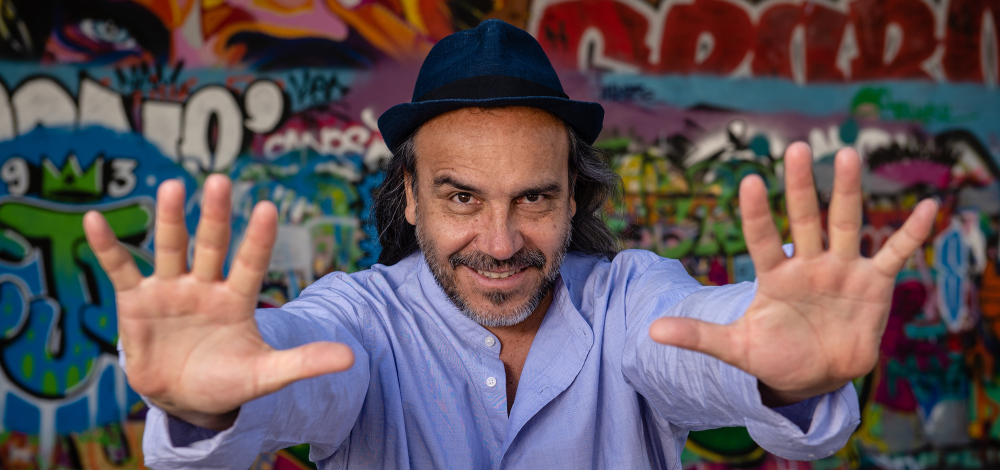 Percussionist Minino Garay was born in Córdoba, Argentina, but has been living in France for twenty years now, where he has developed a great professional career performing music that blends jazz and the rhythms of his homeland with those of Africa. He has collaborated with Magic Malik, Julien Lourau Groove Gang, Jacky Terrason, Baptiste Trotignon, Richard Bona, Daniel Mille, Cheick Tidiane Seck and Dee Dee Bridgewater and formed his band Los Tambores del Sur.
After exploring in his first four albums all the registers of Latin American music and flirting with jazz, Minino Garay pays tribute to Argentina and more particularly to Cordoba, his hometown.
For this Argentinean musician, French adopted for 25 years, the time had come to go back to the roots of Cordoba's music with his traditional cuarteto * and to honor his Argentine roots.
After a first opus "Asado" released in 2013 the very charismatic Minino Garay returns with a second album "root" Tunga tunga's band warm and festive.
The cuarteto de Córdoba, also known as the Tunga Tunga, interferes with the musical tradition of this Argentine province. The basis of this rhythm is a mixture of tarantella, paso doble, and other European music, landed with immigrants who settled in the wet Pampa of the early twentieth century.
The pianist Leonor Marzano, creator of the cuarteto cordobes, intensifies the bass in the left hand of her piano, and thus creates a right balance between the rhythms coming from Europe, the accordion which brings its richness with counterpoints and the violin or the flute that add charming melodies to this genre.
The texts take popular sayings, rogues, and tell stories of love and disappointment lovers.
Although it is the music of popular balls, cuarteto is not without wisdom, on the contrary, it is the story of a people.
For this album I invited the four "dinosaurs" of cuarteto: Carlos "Mona" Jimenez, Carlos "Pueblo" Rolan, Ariel Ferrari and the son, himself, of Leonor Marzano and Miguel Gelfo, founders of Cuarteto Leo , accordionist Eduardo Gelfo.
I was also able to count on the collaboration of musicians from Cordoba, living in Argentina and abroad, such as Diego Bravo, pianist and artistic producer, and bassist Fernando Huergo, based in Boston, USA, and also professor of Berklee College of Music.
The peculiarity and the original contribution of this disc are due to the presence of the accordionist Christophe Lampidecchia who brings the sound of the "musette" proper to the French folk dances.
"Seguí, seguí bailando, porque lo that you toca, te toca …"
In collaboration with ACCES Concert