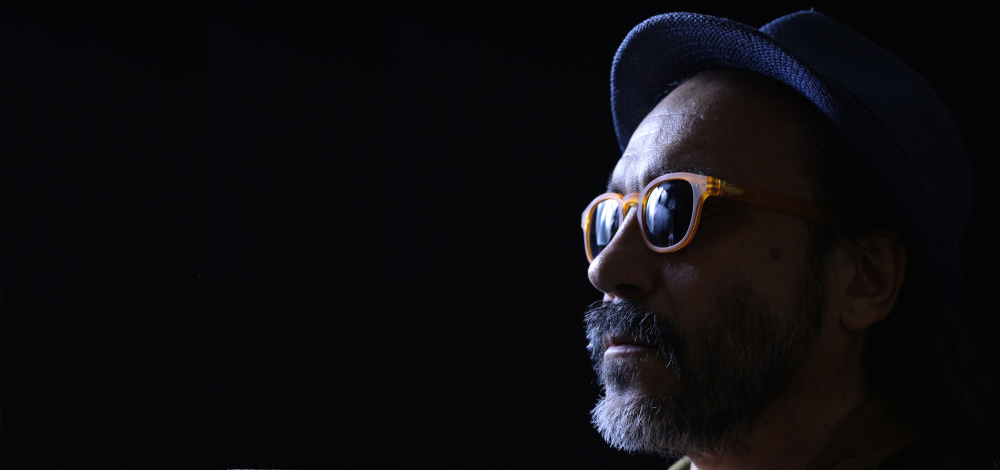 Minino Garay : Drum, percussions
Baptiste Trotignon : Piano
Malcolm Braff : Piano, Fender Rhodes
Manu Codjia : Guitar
Jérôme Regard : Double bass
The title's auspicious expression is worldwide known; it can also sneak into the language of the charismatic Argentinean percussionist.
"Vamos" sounds here like Minino Garay's invitation to the musicians, for them to join him in this new cross-cultural sound adventure. It is also aimed at the audience, inviting the listeners to follow him through the landscapes of the various composers summoned.
"Vamos" is mostly an imprecation; an expression of the will to surpass yourself, to go beyond someone's own identified and celebrated abilities. Indeed the path of the emigrated percussionist, from Cordoba to Buenos Aires, then from the city of both tango and rock to Paris, can be seen as an improbable journey. It is like the storyline of an adventure movie, rich of an undeniable and continuous artistic progression. A successful path he invented and of which we know the delights, but by no means the sufferings. To make progress in the life of music this percussionist had, as his major asset, the northern Argentinean folk rhythms that helped him to open the first doors far away from where he comes from. Though, once the exotic surprise was warded off, he had to learn a lot and above all believe in himself in order to move forward and transmute his limits into unrestricted energy.
The most bizarre individual percussionist in Paris –according to the description made by a recognized journalist- came a long way from the Parisian beginnings in a Southern evocating named band [Tierra del Fuego], when Dee Dee Bridgewater the new jazz diva invited him to join her formation. With her Minino Garay brushes a musical top that he wouldn't even have dared to dream about a few years earlier; while he was passing through sessions, in demand with the cream of French young jazzmen. The "jazz percussionist" category cannot be found whereas the "jazz drummer" does exist. And Garay, even if he plays the drums in other situations, is not a "jazz" drummer. Nevertheless as many percussionists coming to jazz from other music cultures do, he offers a chromatic range and a style resolutely personal. An energetic style, a way to shout ¡Vamos! that impressed the excellent jazz drummer André «Dédé» Ceccarelli, at that time companion of all Dee Dee's adventures and who will then become his music mentor.
Since that time the man from Cordoba keeps honoring Ceccarelli, Jacky Terrasson, Magic Malik and many other musicians' trust. Sharing the everyday life of jazz musicians, Europeans or Americans, he learned the secrets of this music which is opened to all the other styles or music. Listening to and sharing with worldwide percussionists, he incorporated new rhythms, tried other syncopations, rubbed ancient skins and stroked unknown woods, metals and ceramics. Always with verve and without complex. Smiling, since in the end people are just playing. And at this game, Minino Garay naturally takes the leading position in his own bands; within the jazz sphere and also in other music contexts, more folk or closer to pop music. With ease, one day here the next one there, his playing becomes more elastic and flexible. The stories, told a thousand times by his hands, go up to his throat and his voice emerges. "Vamos" is at the intersection of all the ways explored by Garay. It gathers the essential features of experiences and an expressive kaleidoscope. This is Minino's plural world with a graceful and intense evocation of Buenos Aires; like the night race of a stray cat which gives rhythm both to the sleep of the living beings, as well as the souls' dance of the ones that are no longer here.
"Vamos" is a spoken singing dedicated to Argentina, in memory of the great composer Cuchi Leguizamon (La Arenosa) and the famous tanguero Carlos Gardel (Sus Ojos se Cerraron), in recollection of the youth leaving the childhood's neighborhood (Como se Dice en Cordobés) for the big city and its thousand hopes (Provinciano), for the emigrated loves in the Parisian night (La Chanson d'Hélène), for the never-ending jazz discovery (Wonderful World), for the ancestral African beat (Tama), for the secret complicities of the exiles (Memoria Colectiva), for the friendships that grow (Ovni) and carry on (Vamos). So «Vamos» is (also) a friendship singing. Minino plays here with is mates: the guitarist Manu Codja, pianists Malcolm Braff and Baptiste Trotignon, bass player Jérôme Regard, flute player Magic Malik, composer Lalo Zanelli, arranger Guillermo Klein, sound engineer Philippe Teissier du Cros. And you, because you are playing here too and everyone follows Garay! Vamos!
Francisco Cruz – Journalist
In collaboration with ACCES Concert