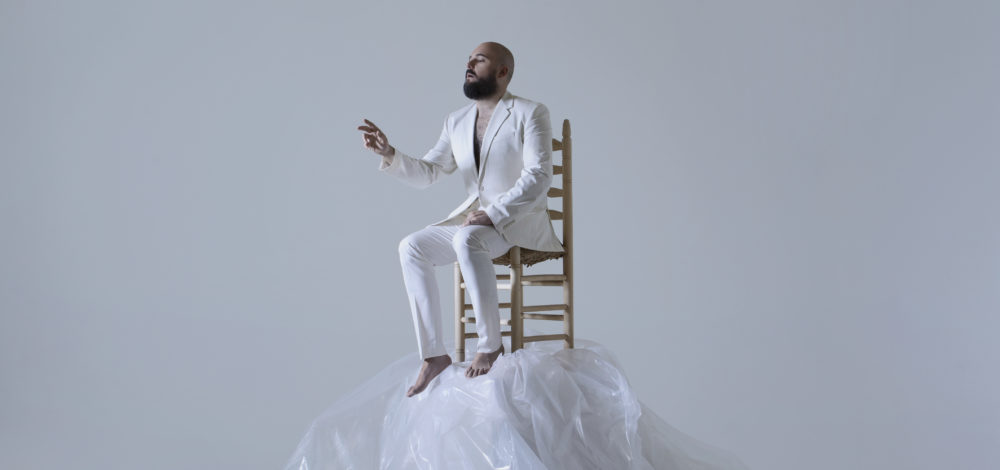 Available on tour 2023/2024 – Antología del Cante Flamenco Heterodoxo, Colombiana, documentary Canto Cosmico
New album November 2022
NIÑO DE ELCHE is an unusual "cantaor" (flamenco singer). He is a multidisciplinary artist who combines the flamenco singing with performances, poetry, improvisation, minimalism, singer-songwriting, rock or electronics. He has published very diverse albums.
NIÑO DE ELCHE is a very versatile and active artist. He alternates his personal works with collaborations with unclassifiable art creators like curator Pedro G. Romero; he has worked with choreographers and dancers such as Juan Carlos Lérida, Israel Galván, Suzanne Heizenger or Matej Kejzar. He also collaborates with sound&video duo Los Voluble for Raverdial, a rave and flamenco show at Sonar 2015 with ravishing reviews. Recently he had an exhibition "Niño de Elche. Invisible Auto Sacramental. A sound performance of the Val del Omar 2020" at the Reina Sofia Museum in Madrid from 07/10/2020 to 27/04/2021. Two very beautiful collaborations with the choreographer Israel Galván in "Mellizo doble" at the Avignon festival and the cover of "Una costilla sobre la mesa" by Angelica Liddell. He is also published his last book "In memoriam. Posesiones de un exflamenco".
 Colombiana :
"All flamenco is a roundtrip song. This Spanish expression refers to specific selection of flamenco song that "travelled back" from Latin America (mainly Cuba)  when Spanish musical traditions and the rhythms brought back by African slaves and Native Americans developed into renewed forms that were reintroduced in Spain, with a different rhythm structure and more mellow character than traditional flamenco. These styles were not only guajiras or milongas, also the soleá and seguiriya. And the fandango, of course. This round trip is the same sugar, coffee, cocoa and cane rum did. But this trip was interrupted between 1810 and 1898 and flamenco music went back to what it was before. So with this new album, Colombiana, NIÑO DE ELCHE is trying to continue that relationship that was so fluid, so fruitful, so flourishing. Although it is not about archeology this time, it is rather an anticipation. Here you can see the flamenco that is coming. The flamenco from the future is around the corner."Pedro G. Romero
Unclassifiable rupturist, NIÑO DE ELCHE sings because he wants, what he wants and however he wants, because he knows and because he can. He is a multidisciplinary artist who leaves the door open for art, polemics, singing, criticism and reflection. And with the release of this latest album, Colombiana, there comes a new and impressive mise-en-scène, and a new rhythmic code to be added to his endless collection.
A new chapter in NIÑO DE ELCHE's journey.
En collaboration avec Whisper Not Agency et Plan B Music
Voces del extremo

2015

Antología del Cante Flamenco Heterodoxo

2018

Colombiana

2019