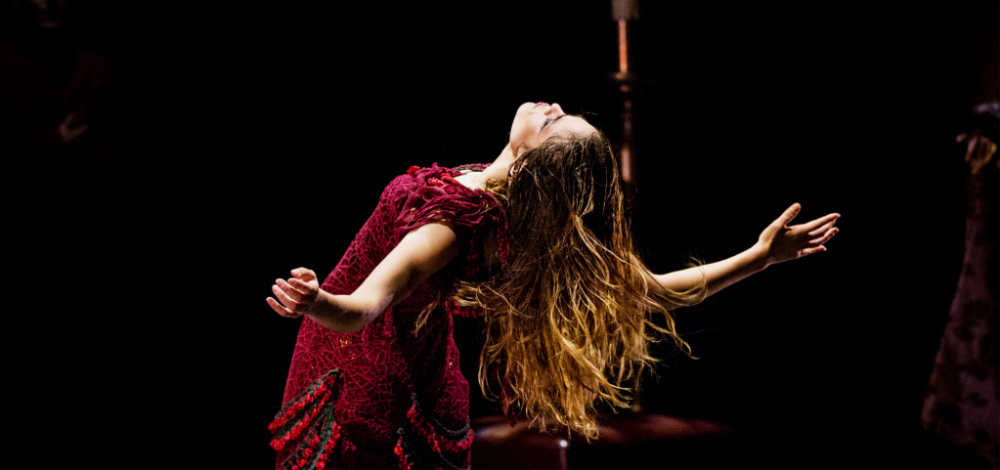 Premio National de danza – 2021
Available on tour for the 2022/2023 season:
New creation 2022, Tientos al tiempo (performance), Catedral, Distopia, Proceso Eterno (recital).
Press :
Magnificent, innovative, the qualifiers rained down that evening at the end of the show that Patricia Guerrero had just given to the public in Nîmes – France TV Info
Patricia Guerrero rising star of the new flamenco – Canal +
Patricia Guerrero's feminist flamenco Rosita Boisseau – Le Monde
Patricia Guerrero, the new revelation of the flamenco scene, takes her dance to the theatre Ariane Bavelier – Le Figaro
Patricia Guerrero dares to dance flamenco with pride in its Andalusian roots, while at the same time dusting off its clichés – Les Echos
Patricia Guerrero, a precocious and gifted dancer, is a multi-awarded artist; Desplante Prize, Seville Biennial, Max Awards… Consecrated in October 2021 by the very prestigious Premio National de Danza, Patricia Guerrero has revealed herself in recent years as an essential choreographer of contemporary flamenco. Invited to perform on prestigious stages from London to Moscow, via Paris, New York and Beijing, her creations Catedral and Distopia have marked a turning point in her career.
Whether in the performance Tientos al tiempo or as a soloist with the National Ballet of Spain, her technique
ballet, her technique and her talent for blending tradition and experimentation
have helped to make Patricia Guerrero a leading figure of her generation. In June 2022 Patricia Guerrero will present her new creation. Contemporary, creative, free, feminist, woman… bailaora.
Patricia Guerrero (Albayzín, Granada, 1990) learned to dance at home. She was just three years old when she began training in the school of her mother, María del Carmen Guerrero. She gradually completed her training with many different masters, assimilating classical dance and Spanish classical dance at the same time as flamenco dance. In addition to this early training, she was also a very quick stage performer, giving her first public performance at the Peña La Platería when she was just 8 years old. The afición and the specialised critics quickly discovered in Patricia Guerrero a rising star.
In 2005, she won the Flamenco Art Competition of the City of Ubrique and in 2007, at just 17 years old, she won the prestigious Desplante prize of the Festival Internacional de Cante de las Minas (La Unión). This award facilitated her international career, opening the doors to the most important dance events.
In 2010 she presented her first show, Desde el Albayzín, which she performed in many European cities. At the same time, Carlos Saura called on Patricia Guerrero to dance as a soloist in Flamenco Hoy, a show that toured the world's biggest stages, such as New York's City Center. The prestigious filmmaker called on her again for the shooting of his film Flamenco, Flamenco. In 2011, Patricia Guerrero became principal dancer of the Ballet Flamenco de Andalucía under the direction of Rubén Olmo. In 2013 she performed her second creation, Latidos del agua, for the first time at the Alhambra Theatre in Granada. That year she also presented "Touché", her new show with the violinist and composer Bruno Axel, which toured the most important music and dance festivals: Jerez Festival, Zurich Festival, Düsseldorf, Nîmes, Teatro Central in Seville, etc.
n 2014, Belén Maya asked Patricia Guerrero to perform in her show Los invitados. Other great figures of flamenco also call on Patricia as a guest artist. In 2015, she presented Doce Tiempos at the Festival Itálica, where she shared the stage with contemporary dancer Raúl Heras. In 2015, she danced as a soloist at the Théâtre National de Chaillot in Paris with Cuando sueñan los ríos.
In Catedral, a show first presented in 2016 at the XIX Bienal de Sevilla, she puts herself in the hands of a great director, Juan Dolores Caballero. In search of interiority, both physical and aesthetic, Patricia Guerrero dives into the heart of theatrical codes and languages and begins to work, through dance, on the development of characters. Catedral was awarded the Giraldillo for "Best Show" at the XIX Bienal de Sevilla, and two nominations for the Max Awards 2017, including "Best Female Dance Performer" for Patricia Guerrero.
In 2018, still in collaboration with the director Juan Dolores Caballero, she presents Distopía, an exploration of the concept of dystopia, defined by Thomas More and which designates a misguided utopia.
Any advance of society along the path of utopia generates a dystopia. The protagonist of this story lives in an apparently ideal society, i.e. non-existent and broken, in which the personality of the individual is cancelled out. She questions the life she has led, and continues to lead, for which she is judged and mistreated in every sense of the word. It is a show with a hard and deep content, but whose scenes are full of light and beauty and in which, for the audience, the pleasure of flamenco, dance and music is inseparable from the emotional charge of the story.
Since then, Patricia Guerrero has been an associate artist at the 104 in Paris and has offered a performance "Tientos al Tiempo" with Pablo Valbuena mixing visual arts and dance. In September 2020 she also performed a dizzying duet at the Seville Biennial with the violinist Fahmi Alqhai.
In July 2021 she was a soloist with the Spanish National Ballet in the show La bella Otero by Rubén Olmo.
In October 2021 she received the prestigious Premio Nacional de Danza and is preparing a new creation that she will present in June 2022.
Premio National de danza – 2021
Prix Max 2019 – Nominations « Meilleure Interprète Féminine de Danse », « Meilleure Spectacle Danse », « Meilleure Chorégraphie »
Premio Compás del Cante Joven 2017
Prix Max 2017 – Nomination « Meilleure Interprète Féminine de Danse »
Giraldillo « Meilleur Spectacle » à la Biennale de Flamenco de Séville 2016
Prix Venencia Flamenca (Festival Flamenco de la Mistela) 2016
Giraldillo « Artiste Révélation» de la Biennale de Séville 2012
Prix Desplante (Festival Internacional de Cante de Las Minas) 2007
1er Prix au Concours Arte Flamenco de la Ville de Ubrique 2005