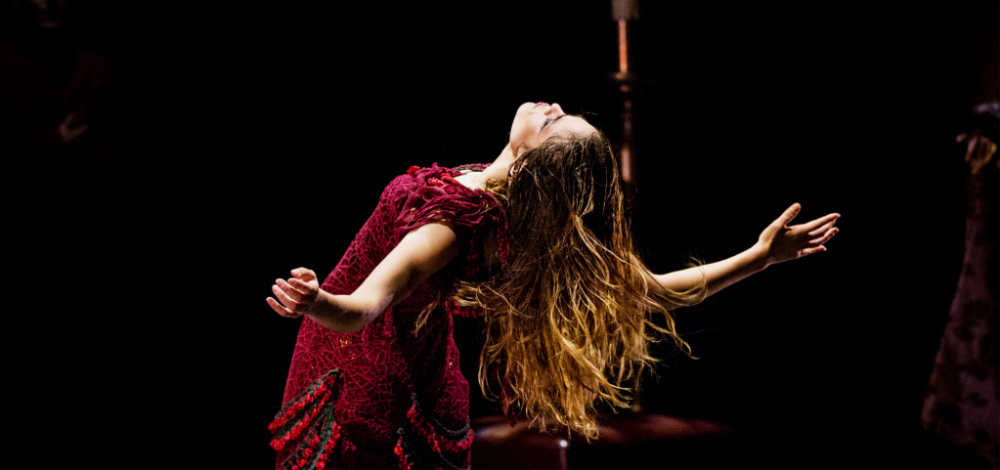 Flamenco is a language that looks like my own mother tongue. I want to experience dance with all my inner freedom. I just want to keep being myself and never betray who I am. Patrica Guerrero
Distopía and Catedral ( Best Show at the Bienal de Sevilla 2016 ) available for the 2021/2022 season.
Patricia Guerrero, associate artist of the Centquatre in Paris, is arguably the most talented flamenco dancer of her generation. Distinguished in 2016 by the prize for the best show of the Seville flamenco biennial with her show Catedral, she has since presented the equally ambitious show Distopía, collaborates with the visual artist Pablo Valbuena for Tientos al tiempo and gave a dizzying performance at the Seville 2020 Biennale alongside violist Fahmi Alqhai in Paraíso Perdido.
She has thus revealed herself in recent years as an essential choreographer of contemporary flamenco.
A dancer with very flamenco roots, Patricia Guerrero has developed her art by constantly questioning other disciplines in the field of dance and music. Her language is flamenco, a language that she updates for herself, and which evolves at the same time as she does.
Patricia Guerrero was born in Granada, in the Albaicin district, in 1990. This dancer has deep flamenco roots, but she has always enjoyed exploring other styles of music and dance. Nevertheless, flamenco is her language, a language that she adapts to her own vision, a language that always evolves with her.
Patricia Guerrero had her first taste of flamenco dance at home: at the age of three she started classes at her mother's academy and since then her apprenticeship has been taking place. is enriched with influences from a whole range of maestros, assimilating classical dance and classical Spanish dance as well as flamenco itself. Its precocity was within the reach of all from an early age. Her first public performance was at the Peña La Platería, when she was only 8 years old, and soon after she performed alongside Juana Amaya at the Albayzín Flamenco Festival. At age 15, she joined the Center for Flamenco Studies directed by Mario Maya, where she toured as a cast member for Diálogo del Amargo (Dialogue of the Bitter).
Soon, Patricia Guerrero was starting to make a name for herself among fans and flamenco critics. In 2005 she won the Flamenco Art Contest of the City of Ubrique and in 2007, at just 17, she won the prestigious Desplante award at the International Festival of Cante de las Minas (La Unión). This award was a springboard to international success, paving the way for her to perform at some of the world's most important dance events, such as the Festival de Jerez, the Düsseldorf Festival, the Festival of Music and Dance of Granada, the Youth Biennial of Seville, etc. In 2009, she was invited to join the Mario Maya tribute tour, travelling round the most important theatres and festivals in Spain.
A year later she presented her first solo show, Desde el Albayzín (From the Albayzín), which toured round Europe. At that time, Patricia Guerrero was also asked by Carlos Saura to perform as a soloist in the show Flamenco Today, with which she toured the world and performed on stages as famous as New York's City Center Theater. This legendary filmmaker used Patricia again for the shooting of his film Flamenco, Flamenco, where she appears dancing Cuban guajira music, together with Arcángel and the choreographers and dancers Rafael Estévez and Valeriano Paños. That same year, she joined Rubén Olmo's company for Tranquilo alboroto (Quiet Racket).
In 2011 Patricia Guerrero was named prima ballerina of the Andalusian Flamenco Ballet, directed by Rubén Olmo. From the many great performances during this period, critics have highlighted her memorable paso a dos alongside the maestro Antonio Canales in Llanto por Ignacio Sánchez Mejías (Lament for Ignacio Sánchez Mejías), and alongside Eduardo Leal in Metáfora (Metaphor). At the same time, Patricia Guerrero was moonlighting as a guest artist by Arcángel for his shows Olor a tierra (Smell of Earth) with the Academy of Piaccere, and Las idas y las vueltas (Comings and Goings), a fusion of flamenco and Baroque music which landed her the Best New Artist Award at the Bienal de Sevilla 2012. The special collaboration with Arcángel continues to this day, with the show Tablao, which premiered at the Teatro Real in Madrid in 2016.
In 2013 Patricia Guerrero premiered her second show, Latidos del agua (Water Pulses) at the Alhambra Theatre in Granada. The same year she also presented Touché, a collaboration with the violinist and composer Bruno Axel. Touché toured several major music and dance festivals: Jerez Festival, Festival of Zurich, Düsseldorf, Nimes, Central Theatre Seville, etc.
In 2014 Belén Maya invited Patricia Guerrero perform in her show Los Invitados (The Guests). Other leading figures in flamenco, such as Dani de Morón and Antonio Rey, also cast her in their shows as a guest artist. In 2015 she presented Doce Tiempos (Twelve Tempos) at the Festival of Italica, during which she shared the stage with contemporary dancer Raúl Heras. That same year she gave a solo performance in the Chaillot National Theatre in Paris in the show Cuando sueñan los ríos (When Rivers Dream).

In February 2016, for the twentieth anniversary of the Festival de Jerez, she presented Pórtico, a piece that gave a glimpse of what was to become Catedral, and later premiered at the 19th Bienal de Sevilla at the Lope de Vega Theatre. In this new piece of work, she put herself in the hands of a great stage director, Juan Dolores Caballero. In this exploration of the interior, the physical and the aesthetic aspects of her art, Patricia Guerrero is immersed in codes and languages of the theatre, and aims to construct characters through dance.
In 2018, still in collaboration with director Juan Dolores Caballero, she presented Distopía, an exploration of the concept of dystopia, defined by Thomas More and which designates a misguided utopia. Any progress of society on the road to utopia generates dystopia. The protagonist of this story lives in a seemingly ideal, i.e. non-existent and broken society in which the individual's personality is nullified. She questions the life she has led, and continues to lead, for which she is being judged and mistreated in every sense of the word. It is a show with hard and deep content but whose stages are full of light and beauty and in which, for the spectators, the pleasure of flamenco, dance and music is inseparable from the emotional charge of the history.
In 2020 new creation "Tientos al Tiempo" in collaboration with Pablo Valbuena visual artist, both associated with 104 in Paris. The project is based on three aspects: the rhythmic character of flamenco, the extension of the body on an architectural scale and the specificity of the place where it takes place.
Also, a creation with Fahmi Alqhai "Paraiso Perdido".
Main awards and rewards:
Max Prize 2019 – Nominations "Best female dance performer", "Best dance performance", "Best choreography"
Compass del Cante Joven Prize 2017
Max Prize 2017 – Nomination "Best female dance performer"
Giraldillo "Best show" at the 2016 Seville Flamenco Biennial
Venencia Flamenca Prize (Festival de Flamenco de la Mistela) 2016
Giraldillo "Artist of Revelation" at the 2012 Seville Biennale
Desplante Prize (Cante de Las Minas International Festival) 2007
1st prize at the Arte Flamenco Competition of the City of Ubrique 2005
En accord avec Endirecto FT – photo: @Naemi Ueta. </ em>